Stellaris RNA FISH Probes
DIRECT
DETECTION
IN SITU
LOCALIZATION
SINGLE MOLECULE
QUANTIFICATION
Get a clear focus on RNA biomarkers for cancer, developmental biology and pathology!
Stellaris® RNA FISH requires minimal prep work and produces strong signal-to-noise ratios for compelling and intuitive images which clearly illustrate the quantity and location of mRNA and lncRNA in situ.

Download our white paper and learn how Stellaris RNA FISH can support your research.
 
Watch Webinar Video
Detection of Long Noncoding RNAs by Stellaris FISH Probes
Watch our webinar recording about the detection of long noncoding RNA using Stellaris FISH probes. Presented by Arturo Orjalo, Jr. Ph.D.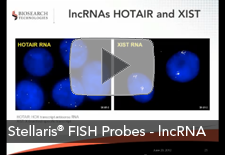 This product is sold under license from the University of Medicine and Dentistry of New Jersey and may be used under its patent rights for Research Use Only.